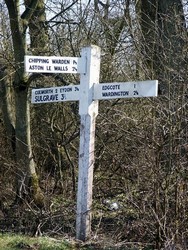 You can click on the image below to view a larger version of the image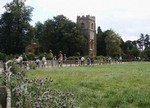 Edgcote church
Visiting the battlefield
A well prepared visit to this battlefield can be very rewarding and enjoyable experience, not least because this is a quiet and very pleasant landscape of hill and vale, suitably distant from any urban development or major road, and largely untouched, having been used continuously for farming.
There is good access on public rights of way and minor roads to the location There are a number of excellent viewpoints from the high ground probably used by troops on both sides, giving a good prospect across both of the possible sites around Danes Moor.
FURTHER READING
Guidance to enable you to walk the battlefield is given in Evans' book (see below), as an appendix, suggesting starting at Chipping Warden. The full loop, making use of sections of the Jurassic Way, Battlefields Trail and Millennium Way is 5-6 miles, and takes at least 3 to 4 hours, depending on levels of fitness and how often you stop to look. Some parts are steep. The Northamptonshire Battlefields Society produces a leaflet with a map of the walk. This is available from the Society, and a supply can usually be found at the Griffin Inn at Chipping Warden.
Evans, Graham. The Battle of Edgcote 1469 – Re-evaluating the evidence. 2019