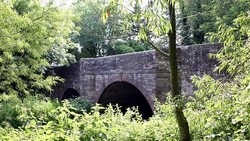 You can click on the image below to view a larger version of the image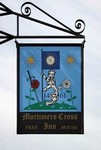 Mortimer's Cross Inn
More Images - click any number below to view gallery images:
Visiting the battlefield
Facilities: There is a pub at Mortimer's Cross and possibly at Kingsland (the Monument Inn). There is a café at National Trust property of Croft Castle (3 miles). The nearest town is Leominster (5 miles). Nearest TIC is Leominster.
This is a delightful part of England, with a varied landscape of hills and valleys, of woods and fields. However the battlefield itself is notable for its flat character and regular hedged partly arable fields. Given the uncertainties about the location and character of the action and the loss of key elements of the landscape as it was at the time of the battle, a visit to the battlefield is not as rewarding as one might hope. However it is worthwhile, because it allows the visitor to explore the alternative sites and there are various other places of military and other tourist interest in the surrounding countryside.
For a battlefield location map from multimap.com CLICK HERE