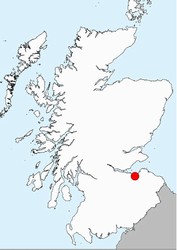 You can click on the image below to view a larger version of the image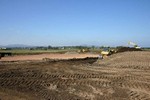 Development underway on a peripheral area of the battlefield in 2005.
More Images - click any number below to view gallery images:
Battle of Pinkie
10th Septmber 1547
Attempts by the English to link the two kingdoms, of England and Scotland, through the marriage of the young queen Mary of Scotland and prince Edward (later Edward VI) of England, collapsed into open conflict in 1544-5. This was halted by the treaty of 1546, but the Duke of Somerset, now effectively ruling England during the minority of Edward VI, simply used the cessation to prepare for war. This time he planned a major land campaign to secure territory, not simply a major raid for these had always previously failed to achieve any long term success for either side.
The army was mustered at Berwick and from there, in early September, it crossed the border, marching north on the main east coast route, supported and supplied by the English fleet. In response the Earl of Arran mustered northern Scottish forces. Once aware of the English route, Arran marched to block their approach at the crossing of the Esk near the coast at Musselburgh.
On the 9th September the English approached from the east and camped at Prestonpans.The next day saw the last great battle between the two kingdoms before they became united under the rule of a single monarch, and it proved a dramatic Scottish defeat.
A REPORT ON PINKIE, PREPARED FOR HISTORIC SCOTLAND BY THE BATTLEFIELDS TRUST, IS AVAILABLE FROM THE DOWNLOAD AREA ON THE LEFT