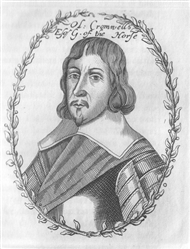 You can click on the image below to view a larger version of the image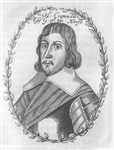 Oliver Cromwell, commander of the parliamentarian forces at Winwick
More Images - click any number below to view gallery images:
The Armies
SCOTTISH/ROYALIST
Commanded by the Scot, Lieutenant General William Baillie, the force at Winwick consisted almost entirely of Scottish foot, probably numbering around 4,000-6,000 men. According to Cromwell, a force of 7,000 or 8,000 'royalist' foot and 4,000 horse were pursued after the battle of Preston, through Wigan before stopping at Winwick Pass. These numbers decreased during the march due to reported skirmishing and losing men to desertion or as prisoners. The parliamentarian cavalry officer Captain Sanderson, who fought in the battle, reported 1,600 royalists killed and 1,500 captured at Winwick whilst others were pursued to Warrington. Cromwell claimed that 4,000 prisoners were taken including those at Warrington, suggesting that Scottish forces at Winwick may have totalled around 5,000. One parliamentarian source, Hodgson, says a body of royalist horse made a temporary appearance during the fighting at Winwick. These may have been a party sent from Warrington to report on the action at Winwick or Hodgson may have confused a contingent of Scottish officers fleeing on horseback. In any case these cavalry don't appear to have been directly involved in the battle. It is also possible the Scots had a number of light artillery pieces with them, if the small cannon shot now in Warrington Museum, labelled as coming from the battlefield at Winwick, were fired during the battle.
PARLIAMENTARIAN
Cromwell records that his force consisted of about 3,000 foot and 2,500 horse and dragoons, as it pursued the retreating Scots. This force could have been larger by the end of the battle due to reinforcements. For example, Colonel Pride's regiment of foot arrived after the battle commenced.