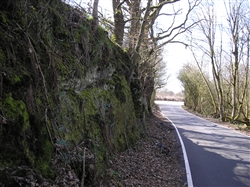 You can click on the image below to view a larger version of the image

Red Bank, the defensive position of the Scottish infantry, in the vicinity of the modern A49 road
More Images - click any number below to view gallery images:
The Battle
The Scots chose to make a stand along the southern edge of Hermitage and Newton Brooks, the former crossed the Wigan to Warrington road (the modern A49) before joining the latter. They were aided further by the existence of a high sandstone bank along part of the southern edge of the valley, probably with a hedge on top. Cromwell ordered forward a 'forlorn hope' which was repulsed, or as Hodgson puts it 'snaffled our forlorn and put them to retreat', to be followed by an infantry attack. The Scots had pikemen, probably where the road crossed the brook, for the two sides came to 'push of pike' according to Cromwell, with the parliamentarians again being forced back after the fight. Cromwell's account reads:
'the enemy made a stand at a passe near Winwicke. We held them in some dispute till our army came up, they maintaining the passe with great resolution for many hours, ours and theirs coming to push of pike and very close charges, and forced us to give ground, but our men, by the blessing of God, quickly recovered it, and charging very home upon them, beat them from their standing…' (Ormerod, 1844.)
No doubt skirmishing took place across the valley, with some artillery fire as well, as cannon balls found on the battlefield and now in Warrington museum testify. Barratt (1997) suggests these were probably easily transportable frame guns. Locals probably gave Cromwell information that a route existed to take men around the right flank of the Scots. He quickly sent cavalry from Colonel Robert Lilburne's and Colonel Philip Twisleton's regiments on this flank to march to the east, while ordering forward the newly arrived Colonel Pride's regiment of foot. This, together with the possible appearance and rapid disappearance of some of their own cavalry, forced the Scots to abandon their position and retreat south. A rearguard made a stand in the village of Winwick on the green, which was to the north of the church and possibly at Winwick Hall, and then in the church (whose tower still bears musket-ball marks on its outside north face, although these possibly come from a skirmish in 1643) where the New Model Army 'made a great slaughter of them'.