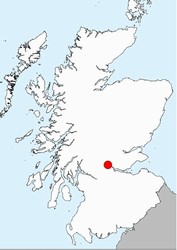 You can click on the image below to view a larger version of the image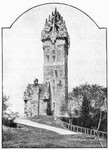 The Wallace memorial overlooks Stirling Bridge battlefield, the site of his greatest victory
More Images - click any number below to view gallery images:
Battle of Stirling Bridge
11th September 1297
With the failure of the House of Canmore in Scotland, Edward I of England supported the installation of John Balliol as a vassal king of Scotland. In 1295 there was a rebellion, leading to an English campaign involving the sack of Berwick and the defeat of a Scottish army at Dunbar. Balliol then sued for peace and accepted an English occupation but, in 1297 under the leadership of Sir William Wallace and Sir William Morray, there was a major Scottish revolt.
This was at a time when the English were engaged in war with France and, as so often, the Scottish forces chose this time to challenge their enemy, when they were more vulnerable because fighting on two fronts. By August 1297 Morray and Wallace controlled almost all of Scotland north of the Forth, except for Dundee. As Edward I was fighting on the continent, the English governor, the Earl of Surrey, marched north with an army from Berwick to relieve Dundee.
It was at the crossing of the Forth at Stirling that the Scottish army chose to meet the challenge. Stirling Brige was the first major Scottish victory in the Wars of Independence, placing the country back under Scottish control and raising Wallace to a position of political dominance.
A REPORT ON STIRLING BRIDGE, PREPARED FOR HISTORIC SCOTLAND BY THE BATTLEFIELDS TRUST, IS AVAILABLE FROM THE DOWNLOAD AREA ON THE LEFT