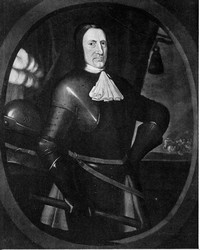 You can click on the image below to view a larger version of the image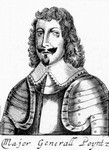 Colonel General Sydenham Poyntz, commander of the parliamentarian forces at Rotwon.
More Images - click any number below to view gallery images:
The Campaign for Chester 1645
Following the Royalist's crushing defeat at Naseby in June 1645, Charles field army was all but destroyed. He had then lost the West Country following the battle of Langport. Having failed to raise troops from Wales, Charles headed north with the remaining 4,000 cavalry at his command. He intended to unite forces with the Earl of Montrose in Scotland, who had won a string of dramatic victories there agsint the Convenanter govenment.
Shadowing the King on his march north was a parliamentarian force of 3,000 cavalry, under the command of Colonel-General Sydenham Poyntz. En route Charles learned of the siege of the royalist garrison of Chester. Rather than allow Chester to fall into enemy hands Charles diverted his course to relieve the city.
As the royalists approached Chester from the west on September 23rd, Poyntz with his 3,000 parliamentarian cavalry troops was still 20 miles from the city at Whitchurch. Charles was thus able to divide his forces, despatching Sir Marmaduke Langdale with some 2,500 troops to approach the city from the south-east, thereby trapping the parliamentarian besiegers or intercepting them if they fled. Charles and the remainder of his forces entered the city from the west.