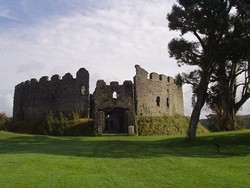 You can click on the image below to view a larger version of the image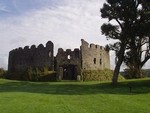 Restormel Castle.
More Images - click any number below to view gallery images:
Battle of Lostwithiel
21st and 31st August 1644
Following the King's escape from Oxford in early June 1644 with a 7,500 strong force of cavalry and musketeers, parliament's commanding general, the earl of Essex, decided to divide his forces. He judged, incorrectly, that Sir William Waller's army would be sufficient to keep the King in check whilst he marched westward to relieve the town of Lyme Regis then besieged by the Western army under the King's nephew, Prince Maurice.
After defeating Waller at Cropredy at the end of June 1644, the King turned the Oxford army to pursue Essex. In the west Maurice had withdrawn from his positions before Lyme and moved to Exeter at Essex's approach. Essex next advanced to raise the siege of Plymouth by a Cornish army under Sir Richard Granville. Granville fell back before the parliamentarians into Cornwall and Essex pursued, encouraged by Lord Roberts' view that his local connections could turn Cornwall to the parliamentary cause.
Essex marched to Lostwithiel on 2 August and secured the coastal village of Fowey with the aim of linking-up with the fleet under the earl of Warwick. A day later the King ordered Granville to proceed toward Lostwithiel and, with the Oxford and Prince Maurice's armies advancing from the east, by 11 August the parliamentarians were largely surrounded in the town.
Lostwithiel was fought in two main phases on 21 and 31 August 1644. The battle was the worst defeat suffered by a Parliamentarian army during the war and conversely the royalist's greatest success, though they failed to exploit the advantage it provided fully. The battle provided the backdrop to further recriminations following the failure of Parliament's commanders to inflict a decisive defeat on the King at the second battle of Newbury in October 1644 which ultimately led to the adoption by parliament of the Self Denying Ordinance and the creation of the New Model Army.
The first phase of the action occurred on the enclosed hills and heath land that surrounded Lostwithiel to the north and east. The north-south running river Fowey dominated the landscape to the east of the town and acted as barrier to communication between the royalist forces until Restormel castle was captured on 21 August. To the south of Lostwithiel further rolling hills with steep valleys led down to the villages of Fowey, Polkerris and Minabilly with their small anchorages. It was over these hills with their hedged fields that the second phase in fighting occurred as the parliamentarians retreated along what is now the modern B3269 road and parallel lanes. The parliamentarian retreat to the east and the west was constricted by the rivers Fowey and Par respectively. Castle Dore, from where the parliamentarians surrendered is a scheduled ancient.
KEY FACTS
Name: Battle of Lostwithiel
Type: Battle
Campaign: Second Newbury Campaign
War period: The Civil Wars
Outcome: Royalist victory
Country: England
County: Cornwall
Place: Lostwithiel, Tywardreath, Golant St Sampson, Fowey
Location: secure
Terrain: hills / enclosed fields / settlement
Date: 21st and 31st August 1644
Start: early morning on both days
Duration: most of the day
Armies: Royalist: commanded by King Charles I; Parliamentarian: commanded by the earl of Essex
Numbers: Royalist: circa 7,000 cavalry, 12,000 infantry; Parliamentarian: circa 2,900 cavalry, 6,500 infantry
Losses: Royalist: 100 killed; Parliamentarian: 300 killed, 6,000 captured
Grid Reference: SX11645945, SX10446106, SX10135670, SX08185407, SX10245494
OS Landranger map: 200
OS Explorer map: 107
Historic England Battlefields Register CLICK HERE
English Heritage battlefields reports for Battle of Lostwithiel 21 August 1644 and Battle of Lostwithiel 31 August - 1 September 1644
Lostwithiel pages compiled by Simon Marsh, 2013