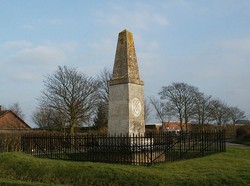 You can click on the image below to view a larger version of the image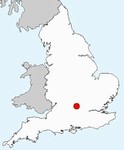 Location map
More Images - click any number below to view gallery images:
Battle of Chalgrove
18th June 1643
The battle of Chalgrove took place around 9 o'clock on the morning of 18th June 1643. It was one of a number of small scale actions between Essex's army and the Oxford royalist forces that followed the fall of Reading.

Using intelligence provided by the turncoat Colonel John Urry and no doubt encouraged by knowledge that a parliamentary pay convoy of £21,000 would be in the vicinity, Prince Rupert initiated a raid on parliamentarian billets around Thame.
Leaving Oxford on 17 June, Rupert marched with a force of 1,100 horse, 500 infantry and 350 dragoons. Although he missed the parliamentarian payroll, Rupert was highly successful in disordering two parliamentarian quarters at Postcombe and Chinnor, capturing or killing 170 enemy troops and easily outwitting and out manoeuvring his enemies at Chalgrove. The importance of Chalgrove lies not with its military significance; there were numerous other small actions of similar scale throughout the country during the war. It was rather its political implications in the loss of Colonel John Hampden, who was fatally wounded in the conflict. Hampden had been a key political figure on the parliamentarian side both before and during the war and his loss was keenly felt.
Chalgrove battlefield remains largely as agricultural land. The World War II airfield to the west covers a substantial area of land but appears not to impinge upon the core of the battlefield. The battlefield lies between the airfield and Warpsgrove Lane, thought the precise area of deployment is the subject of some debate. Cases have been put forward for the Upper Marsh Lane area by the Chalgrove Battlefield Group or closer to the airfield by others. To the east of Warpsgrove Lane there is extensive industrial development.
There are no public rights of way across the battlefield, but fortunately Warpsgrove Lane runs right across the battlefield from the former open field into an area of what was in 1643 pasture closes. A monument to John Hampden stands at the crossroads on Warpsgrove Lane where roads lead off to the left and right to the appropriately named 'Monument Industrial Park' and 'Monument Farm'.
KEY FACTS
Name: Battle of Chalgrove
Type: Battle
Campaign: Reading Campaign
War period: Civil Wars
Outcome: Royalist victory; death of Colonel John Hampden
Country: England
County: Oxfordshire
Place: Chalgrove / Warpsgrove
Location: accurate
Terrain: open field and hedged enclosures
Date: 18th June 1643
Start: 9am
Duration: short
Armies: Royalist: commanded by Prince Rupert. Parliamentarian: under Major John Gunter
Numbers: Royalist: circa 1100 cavalry, but with infantry and dragoons at a distance and not engaged. Parliamentarian: circa 1150 cavalry and dragoons.
Losses: few
Grid Reference: SU645978 (464584,197898)
OS Landranger map: 165
OS Explorer map: 171
Historic England Battlefields Register CLICK HERE
Historic England battlefield report for Battle of Chalgrove 1643