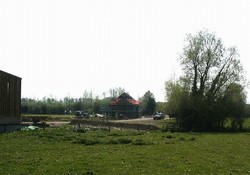 You can click on the image below to view a larger version of the image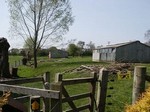 Lying so close to Langport, the battlefield is under continual pressure of land use change of all sort, some positive and some negative.
The Battlefield
The site of the pass where the battle was fought has been disputed. The first location, championed by Alfred Burne, is at the south where the A372 Langport to Long Sutton road crosses the Wagg Rhyne by a small bridge; secondly a central crossing which is no longer a hedged lane, just a public footpath; finally, that supported by Historic England and most recent writers, which is to the north where the B3153 Langport to Somerton road crosses the Rhyne. This northern site seems the most likely although a small archaeological project would help to resolve any remaining doubts. For a discussion of the relative merits of the three sites see Historic England's registration report for Langport.
The landscape remains largely agricultural, though with limited development either side of the Drove. A railway line with a very deep cutting and large embankment crosses the battlefield from east to west and, if the third location does prove to be the correct one, this line is situated in the heart of the action. The southern location is quite heavily built up but there are some areas of open ground in a key location beside the crossing of the Rhyne. The northern site has a limited amount of development on the higher ground towards the town, but landsape is largely undeveloped. Unfortunately this landscape is currently suffering various small scale developments in potentially key location. There is the urgent need for a coherent management strategy for the battlefield, to ensure that the high potential of the site is not further eroded without adequate assessment of the threat and, if development cannot be avoided, then intensive recording of the terrain and battle archaeology.