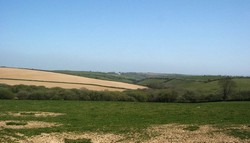 You can click on the image below to view a larger version of the image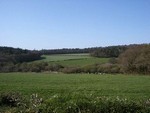 The alternative (traditional) battle site, as discussed by Burne.
The Battle
Upon discovering the enemy already drawn up in battle array on Braddock Down, Hopton quickly deployed his own troops in the standard arrangement, with the infantry flanked by cavalry on both wings. He also placed two artillery pieces, commandeered from Boconnoc House, in the centre. A forlorn of musketeers, a detachment of commanded musketeers sent forward of the main body as a skirmishing unit, was placed in small enclosures closer towards the enemy.
The two armies faced each other on opposing ridges across a small valley. To begin with the two sides exchanged fire, but neither seemed willing to give up the advantage of their relative positions. Eventually Hopton tired of this and after firing the two cannon led his entire army down into the valley and charged up the other side. The Parliamentarians where overwhelmed almost immediately. Standing to fire only a single volley, they took to their heels and fled. Ruthvin left parliamentarian musketeers lining the hedges on the road towards Liskeard, to protect the retreat, but these were soon flushed out and the rout was complete. The royalists continued the pursuit into Liskeard where the townspeople welcomed them.
The parliamentarians had lost their baggage train and several artillery pieces, as well as perhaps 200 men killed and as many as 1,500 taken prisoner.