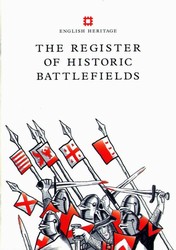 You can click on the image below to view a larger version of the image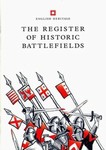 Battlefields Register leaflet
Conserving
To view the Historic England web pages about the Battlefield Register CLICK HERE
The establishment of the Battlefields Register in England in 1995 was an important first step in the protection of our battlefields. There is no comparable conservation measure in place in the rest of the UK. The Register is a material consideration within the Planning process but, unfortunately, it does not offer any statutory protection and so our battlefields are still vulnerable to many threats. The Register clearly needs enhancing both in its coverage and in its scope. The heritage designation review underway in England 2004-2007 should see significant improvements, especially in the light of the Minister's statement in 2003 in the Lords, that there should be protection for historic battlefields from unlicenced metal detecting.
There are however other ways in which some conservation objectives could be achieved, both at a national and a local level. The most effective management should be where a battlefield is owned or held in guardianship by a conservation or government organisation. In England, unlike Scotland, there has been no policy of acquisition of battlefields by such organisations. However one Registered Battlefield, Maldon (Essex, 991), is in the ownership of the National Trust. Another, Edgehill (Warwickshire, 1642), is largely owned by the Ministry of Defence. At least one other, Northampton (Northamptonshire, 1460), is owned by a local authority.
The Town and Country Planning Acts can control development and mineral extraction on Registered Battlefields, as was demonstrated a few years ago in a public enquiry at Tewkesbury. They also enable a local planning authority to require a prospective developer to evaluate a battlefield, whether Registered or not, to determine whether the development proposal would cause unacceptable loss of a heritage resource. Examples where this has taken place are on the Registered Battlefield at Adwalton Moor (Yorkshire, 1643) and the unregistered battlefield at Fulford (York, 1066).
There are other conservation opportunities, such as the various agri-environment schemes, where landowners can enter into voluntary agreements to conserve sites of historic interest and to improve public access. Battlefields can be encompassed by these provisions, as for example at Myton (North Yorkshire, 1318). However to be effective there is the need for the active promotion of such schemes to landowners. A concerted effort needs to be made across the country to achieve the better conservation of battlefields through such measures.
None of these is however an alternative to effective statutory protection.