News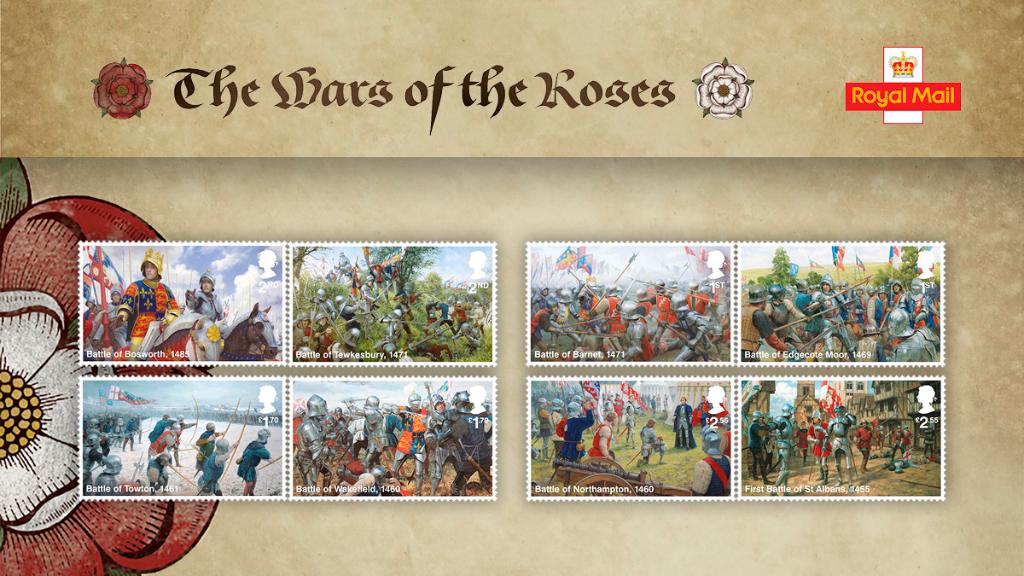 Royal Mail issues Wars of the Roses Stamp Set
22 April 2021
The Royal Mail is commemorating the 550th anniversary of the Battle of Tewkesbury with an issue of eight stamps featuring key battles of the Wars of the Roses. These go on sale on 4 May.
The battles depicted are St Albans 1455, Northampton 1460, Wakefield 1460, Towton 1461, Edgcote (described as Edgecote Moor on the stamp) 1469, Barnet 1471, Tewkesbury 1471 and Bosworth 1485. Further information about most of these battles can be found in the Battlefields Resource Centre on this website at http://battlefieldstrust.com/resource-centre/warsoftheroses/
The Battlefields Trust is delighted that the Royal Mail is featuring the Wars of the Roses in this way. The fact that they have chosen to do this shows they share our view that there's a great deal of interest in this dramatic period of our history, and in its battles in particular. We're also delighted that the splendid artwork of Graham Turner has been used to illustrate the stamps. Graham is a long-standing member of the Battlefields Trust, is one of Britain's leading military artists and his work is not just exciting and evocative – it's always carefully researched.
It has been pointed out by some historians that 'Edgecote Moor' should actually be called Edgcote and that this error could have been avoided by a visit to our Resource Centre. This is indeed true but the Trust would not wish this oversight to overshadow what is a great day for all those who are interested in the Wars of the Roses and care about its battlefields.
The Battlefields Trust has yet to see the presentation packs, first day covers and postcards that Royal Mail has produced to accompany the stamp issue but they are available to pre-order from Royal Mail at The Wars of the Roses | Stamps & Collectibles | Royal Mail Shop
Those with an interest in the period might like to join our online conference on 1st May which features talks on arms and armour, early gunpowder weapons, plus talks on two of the battles featured on the stamps: Northampton and Edgcote. Details here:
http://battlefieldstrust.com/event.asp?EventID=1142
(Photo credit: Royal Mail)