Events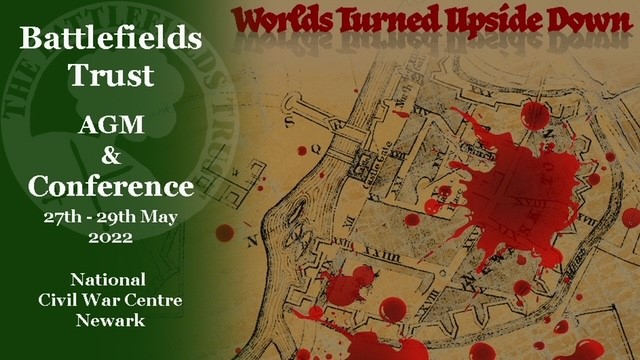 Battlefields Trust AGM and Conference 2022
Friday 27th May - Sunday 29th May 2022
The Battlefields Trust AGM and Conference 2022 will be held from Friday 27 May - Sunday 29 May 2022 at the National Civil War Centre and Millgate House Hotel, Newark.
Newark is strategically located on the River Trent at the junction of the Fosse Way and the Great North Road and has been important to military forces moving both north/south and east/west, or trying to maintain links between forces in different parts of the country.
It has been involved in most of England's civil wars. Newark castle was besieged and changed hands twice during the First Barons' War and, of course, was where King John died in 1216.
A Yorkist rebel army travelling south in 1487 crossed the Trent near Newark and was heavily defeated by Henry Tudor's royalist army at nearby East Stoke; the last battle of the Wars of the Roses.
Newark was held for the King during the first of the British Civil Wars and was besieged three times. The march from Chester for the relief of the second siege is said to be one of Rupert's greatest military achievements. On Friday afternoon we will be visiting the Queen's Sconce one of Newark's surviving examples of 17th century earthworks; said to be one of the finest in Britain.
The AGM and Saturday Conference Dinner will be held in the National Civil War Centre's Tudor Hall, a part of the Magnus Grammar School built in 1532.
Accommodation and Friday dinner will be in the Millgate House Hotel, a converted Victorian miller's house close to the Trent in the Newark conservation area. The hotel is around a 10 minute walk from the NCWC. More information can be found on the website https://millgatehousehotel.co.uk/
Those wishing to attend the Conference need to complete this Booking Form, which provides details and associated costs for accommodation and participation options. Attendance at the AGM is open to all members and is free.
Programme for BT AGM & Conference weekend 27 – 29 May 2022
Friday 27 May
Check in to hotel
1400 - Civil War tour of Newark
1900 - Dinner at Millgate House Hotel
On completion (O/C) - Update on Civil War Petitions Project - Ismini Pell
Saturday 28 May
1000 - AGM at NCWC Tudor Hall
O/C - Tea/Coffee
O/C - Update on Losecote Field - Dale Munn
1130 - Coach departs NCWC for tour of sites on Bosworth Sculpture Trail
1230 – Arrive Bosworth Battlefield Heritage Centre. Split into 2 groups. 1 have lunch in Tithe Barn Café, the other visit exhibition.
1315 – Swap over groups
1400 – Depart Heritage Centre to visit Sutton Cheney, Stoke Golding and Dadlington churches, spending approx. 30 mins at each.
1540 – Arrive Fenn Lane Farm to visit battlefield
1645 – Depart to return to Millgate House Hotel
1915 - Conference Dinner at NCWC Tudor Hall
O/C - Cromwell and the 1643 Lincolnshire campaign - Prof Martyn Bennett
Sunday 29 May
1030 - Coach departs from opposite Millgate House Hotel for Gainsborough
1115 - Tour of Gainsborough including Battlefield - Don Smith
O/C - Lunch at Gainsborough Old Hall or Gainsborough cafes
1430 - Coach departs to return to hotel
O/C - Delegates depart
For further information.