Into battle for Blore Heath (1459) : July 1992 - February 1993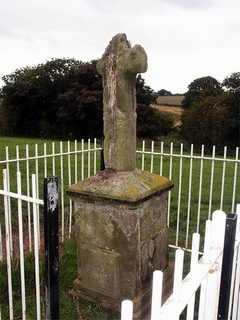 Blore Heath (1459), an early Wars of the Roses battlefield, faced destruction by proposals made by ARC Ltd (a subsidiary of the Hanson Trust) to build gravel pits on the site of the battlefield. The Trust first heard about this threat in July 1992 from The Reverend Dr Brian Swynnerton. The Trust immediately worked closely with the Swynnerton family, Frederick Fisher III and other local activists. The Trust advised on the immediate formation of a local preservation society - Blore Heath Battlefield Preservation Society. The local group allied itself with other local activists interested in preserving a local wood also under threat from gravel pits to form The Blore Heath & Folly Wood Action Group. The Battlefields Trust arranged a visit by its members to Blore Heath to study the landscape; the Trust also immediately involved English Heritage; and in September 1992, the local action group, the Trust and English Heritage all lodged separate official objections to Staffordshire County Council.
The public enquiry took place in February 1993. The Trust provided a battery of expert witnesses to prove the educational, heritage and tourism potential of the battlefield.
These included Kelvin van Hasselt (Coordinator of the Trust) Ross Mackenzie (National Trust for Scotland) Peter Dix (Director of Edgehill Battlefield Museum) and Tonie and Valmai Holt (Major & Mrs Holt's Battlefield Tours.) English Heritage fielded Mr David Smurthwaite to argue the location of the battlefield. The crucial argument used was that the gravel pit at Blore Heath would only provide 1% of Staffordshire's gravel requirements for the loss of an important part of the nation's heritage.
The Inspector's report in September 1993 firmly recommended that no gravel extraction
should be allowed at Blore Heath due to the historical importance of the site.
This was a breakthrough - the first time an inspector had recognised the importance of a battlefield in a planning decision.