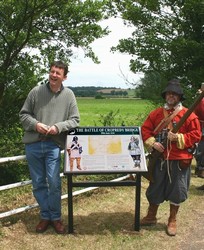 You can click on the image below to view a larger version of the image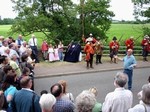 There was a large turn out to see the unveiling and to take part in the battlefield walk which followed.
More Images - click any number below to view gallery images:
The Interpretation Panel for Cropredy
On 26th June 2005 the Battlefields Trust unveiled its interpretation panel beside the bridge at Cropredy. This was the first of a series of panels on the long distance trail that the Trust is developing to link the battlefields of Edgcote, Cropredy and Edgehill. The trail runs from Chipping Warden in Northamptonshire to Kineton in Warwickshire and was completed in autumn 2006.
The Trust would like to thank the people of Cropredy for their enthusiastic support for the project, and Col. Pride's Regiment of the Sealed Knot for helping to make the unveiling such an enjoyable event. Thanks are also due to the various local authorities who are supporting the Trust in developing the Edgcote to Edgehill trail and, most importantly, the Local Heritage Initiative who have provided a substantial grant towards the costs of the project.