Events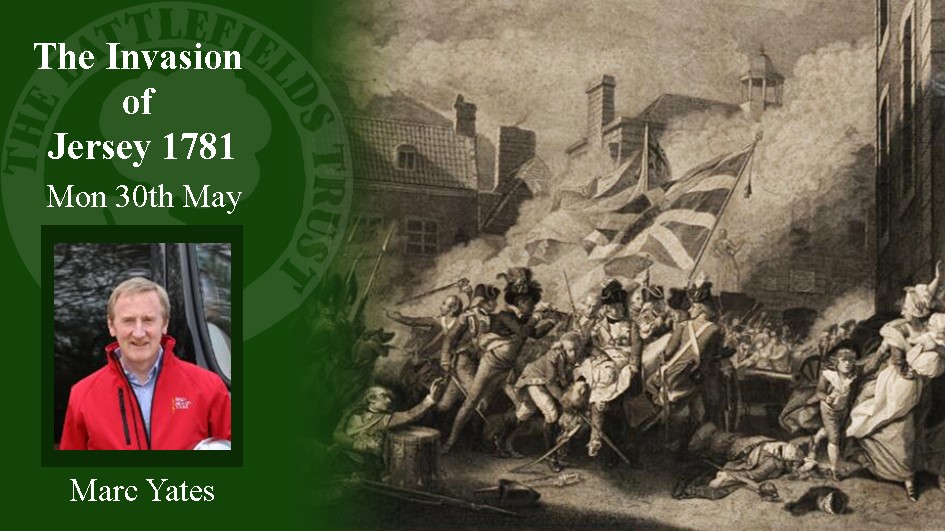 Battlefields Trust Online Lecture: The Battle of Jersey 6th January 1781
Monday 30th May 2022
The Battle of Jersey is arguably the last "battle" fought on British soil after invading French forces were defeated by a force consisting of British Regulars and Men of the Jersey Militia in the middle of the town of St. Helier. The British troops were commanded by a young Major Francis Peirson, who was killed during the battle and is commemorated in John Copeley's famous painting "The Death of Major Peirson" which hangs in the National Gallery.

The Battle of Jersey presentation to the Battlefields Trust will put the battle in context with other events of the time, as well as explaining the origins of the Channel Islands as Crown Dependencies and why they were defended by English and then British garrisons right up until just after the First World War.

The Channel Islands were also the only place in the British Isles which was occupied by Nazi German forces in the Second World War, but that is for another occasion!

Marc Yates was born and brought up in Jersey and from an early age became passionate about its history. His specialism is military history, and he is an Accredited Member of the International Guild of Battlefield Guides.

Family history plays a part in the stories he can recount as part of his tours. Marc's family has plenty of military background with a paternal grandfather and great-grandfather being career soldiers serving in the World Wars. His maternal grandfather served for four years on the Western Front, was granted a Commission from the ranks, and awarded a Military Cross at Passchendaele.

Forward to the Second World War and the German Occupation of the Channel Islands (1940-5), his maternal grandparents and mother remained in Jersey and experienced life under Nazi rule, whilst his paternal grandparents and father, having a military posting in Jersey before WW2, were evacuated with the military forces when the islands were de-militarised a matter of days before the Germans arrived in 1940, and were not able to return for five years.

Marc also has a great interest in archaeology and geology and his tours for visitors, locals and schools in Jersey, as well as further afield, combine all these elements. He also regularly works with British military units to provide conceptual battlefield studies courses in Jersey, where its history, particularly in relation to engineering and logistics, and the relationship between civilian and military forces, is highly relevant to current training.

Having set up History Alive! and Jersey Military Tours six years ago after a career in law, this is Marc's "second" career!

For further information.